Welcome to Saqqara.nl
This website is maintained by the Friends of Saqqara Foundation, a non-profit foundation aimed at providing financial support for Dutch archaeological research at Saqqara, Egypt. For the last fifteen years the foundation has particularly supported the joint excavation team of the National Museum of Antiquities at Leiden, the Museo Egizio at Turin and Leiden University. For several decades, this team has been advancing the research, documentation, and preservation of the monuments in the area to the south of the Step Pyramid of Djoser, where a cemetery of important New Kingdom officials is located.
If you wish to support the Dutch expedition's excavations and restorations at Saqqara, make an online donation to the Friends of Saqqara Foundation now!
You can transfer your donation to the bank account of the Friends of Saqqara foundation. Our banks details are as follows:
IBAN: NL18 INGB 0009 5621 50
BIC: INGBNL2A
Want to become a Friend?
There are two membership categories:
Regular, € 35
Student, € 17,50
(For members abroad an additional € 5 will be charged for postage)
The newest volume of our Saqqara Newsletter 2020 (18) has been sent to all Friends of Saqqara.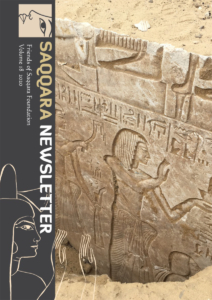 Contents:
Vincent Oeters – From the Chairperson
Paolo Del Vesco, Christian Greco, Corinna Rossi, Daniel Soliman, Lara Weiss – Saqqara Away from Saqqara: Research in Troubled Times;
Daniel Soliman – Late Antique and Medieval Remains at Saqqara: A Retrospective;
Editorial board – Interview with Daniel Soliman;
Ola el Aguizy – The Tomb of the Army General Iwrkhy: Genealogy Problems;
Nozomu Kawai – Exploring the New Kingdom Tombs at North Saqqara;
Huw Twiston Davies – Signs of life in the City of the Dead;
Karel Innemee – The Monastery of Apa Jeremiah at Saqqara.
In case you want to receive the annual Saqqara Newsletter: become a Friend!
To become a Friend send an email to friends@saqqara.nl with your name + postal address and pay the membership fee!
There are two membership categories:
Regular € 35
Student € 17,50
(For members abroad an additional
€ 5 will be charged for postage)
Our banks details are as follows:
IBAN: NL18 INGB 0009 5621 50
BIC: INGBNL2A